Helping national decision-makers, program managers, and funding partners achieve maximum impact with the funding available for the country's public health response and plan for sustainability.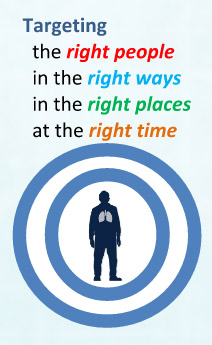 Tuberculosis (TB) is a global public health crisis, compounded by the continuing rise of drug resistant forms of TB, as well as its effects in individuals co-infected with HIV. In addition to active cases of TB, latent TB forms a substantial reservoir of potential active cases.
Together, these factors add extra considerations in deciding how to best support health programs to reduce TB, through either identifying and diagnosing TB within a population, treating active cases of TB for both drug-sensitive and drug-resistant strains, and minimizing the transmission of TB through preventative measures.
Why Optima TB?
Governments and their partners' aspire to achieve the best overall outcomes with available budgets. Limited budgets mean that it will never be possible to provide all possible services for the prevention, detection, and treatment of all diseases to all people. Focused public health responses and efficiencies in program delivery are essential to ensure that programs can do more with available funding. By freeing up scarce resources, efficiency gains offer a vital source of new funding that can be reinvested into the health budget.
Optima TB helps decision makers use existing funds to efficiently address national priorities, reduce disease burden, and plan for programmatic and financial sustainability.
Reaching health goals through optimal allocation of available funding
Developed in partnership by University College London (UCL) and the Burnet Institute, Optima TB combines Optima's optimization algorithm and the UCL epidemiological model of TB transmission and disease progression. The software identifies optimal allocations of available funding to achieve the greatest health impacts based on the user's health goals.
Explore disease targets and policy goals
Optima TB allows users to project trends associated with different levels of program funding at the national and sub-national levels. It allows users to define disease reduction and elimination goals and then determine the best allocation of resources to achieve those goals.
The tool can also conduct policy scenario analyses to explore how TB funding can be more efficiently allocated across detection, prevention and treatment services. Users can also explore the service and diagnostic modalities needed to achieve health targets to identify what current service capacity is required to achieve health goals.
Adaptable analytics for each epidemic
Optima TB is flexible and in addition to many standard scenarios, it can be tailored to country specific questions, such as:
how should resources be allocated to identify and reduce the prevalence of drug-resistant strains of TB?
what is the best combination of TB-related services for HIV+TB co-infected populations?
About Optima TB
The Optima software is owned by OCDS, and was conceptualized and developed by the Directors of the Optima Consortium for Decision Science, with technical inputs from World Bank staff. Extensions, updates, revisions, and changes to the software have been and are made by OCDS partners, as per client need and as supported by our financiers, which include the World Bank, Australian Research Council, the Burnet Institute, US Centers for Disease Control, and other funders.